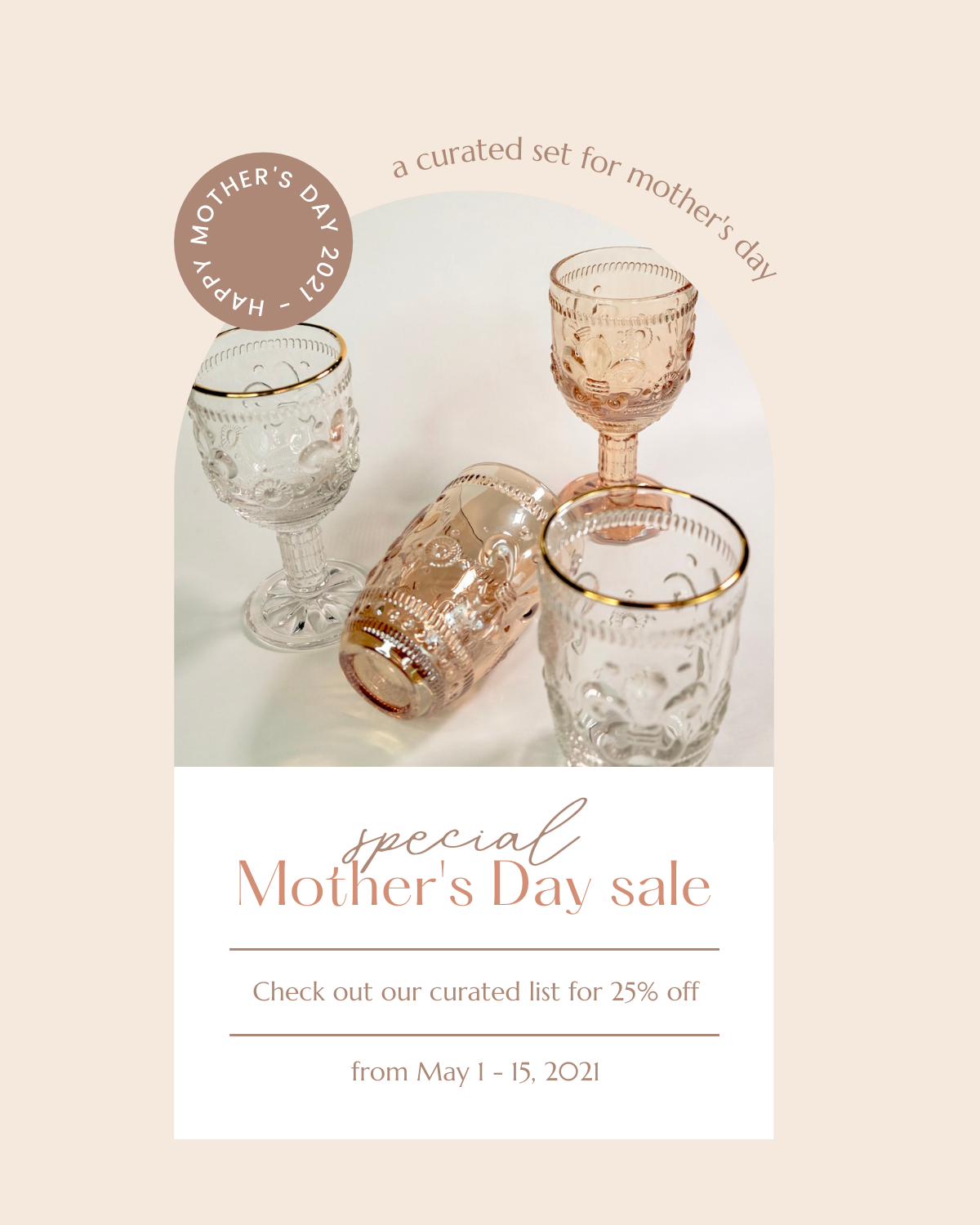 Mothers should be appreciated for what they do not just for one day, but everyday. But this Mother's Day, shower her with extra love, extra kindness, and extra gratefulness. It is said that "No language can express the power, beauty, and heroism of a mother's love", but if her love language is receiving gifts, we've got just what you need to give back to her!
Shop this curated collection made essential for all mothers out there. These items will be 25% off until May 15, 2021.
For the classy moms:
If your mom is the classy type who loves to create beautiful tablescapes, these utensils are perfect for her. Choose between the typical sets elevated into royal finishes and colors, or serving utensils that have the dainty touches of a queen, which encapsulates who your mother is!
For the coffee-loving moms:
If drinking coffee is her afternoon past time after a hectic day of work, or a busy day of doing house chores, these glasses are perfect for her. Surprise her with a mug or two to make her feel the warmth of your love.
For the mom that loves to wine and dine:
If wine and desserts are more of their thing, these elegant glassware will make her feel like royalty. Shop them in different colors and shapes to suit your mom's style and preference!
For the mom that loves hosting :
If your mom is the type who loves to host dinner parties, these essentials are perfect for her. From minimalist casseroles for holding big dishes, to fancy black plates that will elevate her beautiful cooking, as well as placemats and coasters to complete the look, you'll have everything you need for a great celebration in no time.
For the mom that loves afternoon tea:
If your mom loves chilling by the veranda drinking her afternoon tea while reading her favorite book, indulge her in these pieces that will make each merienda session worthwhile. Get a pitcher for that delicious homemade iced tea, a cup and saucer set for her favorite peppermint tea, or a glass jar to keep her nibbles in place.
For an all-in-one present, get her the tea set in collaboration with High Noon! It includes a glass, a bottle of loose leaf tea of your choice, a tea infuser, all packed in a beautiful decorated box.
Related Post